Hightlighted features
Number of houses

13 (13 available)

Living area

80 to 131 m²

Number of rooms

3
Project Villa Oranje
NOG 2 BESCHIKBAAR, 11 VAN DE 13 GERESERVEERD

Gelijkvloers wonen in een sfeervol pand met de gezelligheid en voorzieningen van het centrum direct naast de deur: dát vindt u in Villa Oranje in Mill. Symphony Estates ontwikkelt een appartementenvilla met 10 appartementen en 3 penthouses in diverse formaten, variërend van ca. 80 m2 – 130 m2 woonoppervlakte.

De rijke architectuur refereert door details als hoge ramen, trappartijen, dakranden met overstek en de vele dakkapellen aan de grandeur van een chique stadsvilla van weleer. Wat de appartementen/ penthouses allen gemeen hebben is de sfeer, het comfort en de luxe afwerking van nu. Een fijne living, complete keuken met luxe apparatuur, veel daglicht door de glaspartijen tot aan de vloer en naast een royale masterbedroom een extra study of 2e slaapkamer.

Ook is de complete badkamer al bij de verkoopsom inbegrepen. De staal-look deuren met roedes en de hoge plafonds geven uw nieuwe appartement een heerlijk luxe en ruimtelijke uitstraling. En natuurlijk zijn de appartementen/ penthouses bijna energieneutraal en duurzaam, met o.a. vloerverwarming (en –koeling), een warmtepomp en triple glas.

ROYALE TERRASSEN EN BALKONS

De appartementen beschikken over een ruim privé (dak-)terras of balkon, veelal op het zuiden of westen gericht. Gezamenlijk kunt u ook nog eens genieten van een groen ingerichte, besloten achtertuin op het zuiden. Deze tuin biedt u naast een fraai uitzicht natuurlijk ook de mogelijkheid voor een gezellige borrel met uw buren. Ook komt hier de gezamenlijke fietsenberging met aansluitingen voor uw elektrische fiets(en). De parkeerplaatsen en privé bergingen treft u in de ondergelegen stallingsgarage, die met de lift rechtstreeks bereikbaar is.

Mede door de aandacht voor optimale zichtlijnen, veel daglicht en ruime balkons en terrassen wordt het hier fantastisch wonen.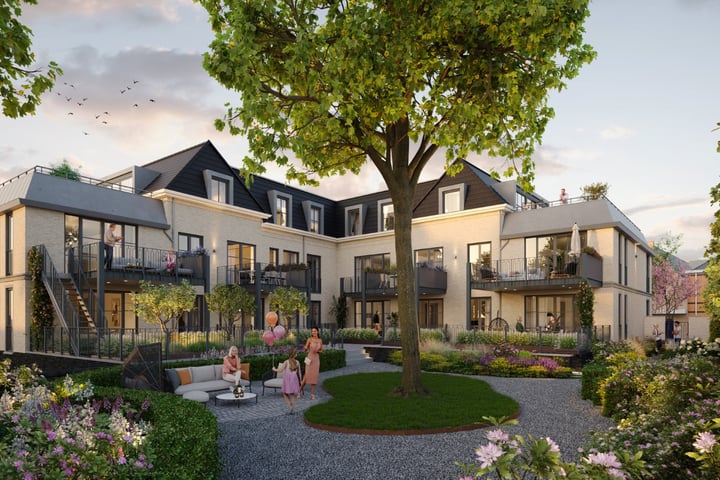 Planning
Project phase: in preparation
Expected start sale
June 2023
Expected start construction
September 2023
Expected delivery
March 2025
Residential property types
Of the 13 houses in this project 13 are available
Appartement

Apartment with shared street entrance

From € 449,900 to € 589,900 v.o.n.

living area

80 to 124 m² Living area

number of rooms

3 rooms

House
Living area
Rooms
Price
Appartement Oranjeboomstraat 1 (Bouwnr. 3)
124 m²

living area

3 rooms
€ 569,900 v.o.n.
Appartement Oranjeboomstraat 1 (Bouwnr. 7)
88 m²

living area

3 rooms
€ 449,900 v.o.n.
Appartement Oranjeboomstraat 1 (Bouwnr. 1)

Under option

90 m²

living area

3 rooms
€ 499,900 v.o.n.
Appartement Oranjeboomstraat 1 (Bouwnr. 10)

Under option

80 m²

living area

3 rooms
€ 479,900 v.o.n.
Appartement Oranjeboomstraat 1 (Bouwnr. 2)

Under option

88 m²

living area

3 rooms
€ 469,900 v.o.n.
Appartement Oranjeboomstraat 1 (Bouwnr. 4)

Under option

93 m²

living area

3 rooms
€ 489,900 v.o.n.
Appartement Oranjeboomstraat 1 (Bouwnr. 5)

Under option

80 m²

living area

3 rooms
€ 489,900 v.o.n.
Appartement Oranjeboomstraat 1 (Bouwnr. 6)

Under option

90 m²

living area

3 rooms
€ 489,900 v.o.n.
Appartement Oranjeboomstraat 1 (Bouwnr. 8)

Under option

124 m²

living area

3 rooms
€ 589,900 v.o.n.
Appartement Oranjeboomstraat 1 (Bouwnr. 9)

Under option

93 m²

living area

3 rooms
€ 469,900 v.o.n.

Penthouse

Penthouse

From € 649,900 to € 719,900 v.o.n.

living area

113 to 131 m² Living area

number of rooms

3 rooms
Map
Cadastral boundaries
Buildings