de Hofstede
3956 ED Leersum
From € 275,000 to € 695,000 v.o.n.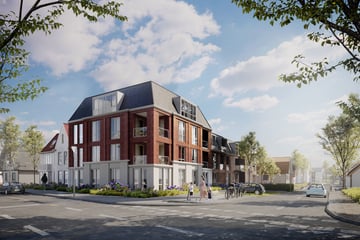 Project de Hofstede
De Hofstede: Stijlvolle appartementen gelegen aan de voet van de Utrechtse Heuvelrug.

Algemeen:
Leersum vormt een onderdeel van de gemeente Utrechtse Heuvelrug. Het dorp ligt midden in een van de mooiste natuurgebieden van Nederland met een gevarieerd landschap van bos en heide dat garant staat voor rust en natuurschoon. Het dorpse karakter harmonieert uitstekend met de vele voorzieningen. Zo is er een aantrekkelijk en levendig winkelcentrum, een keur aan horeca en het multifunctionele cultuurhuis 'de Binder' met een theaterzaal, een uitgebreide bibliotheek, een moderne grote sporthal en alle mogelijke vormen van kinderopvang. Ook zijn er in Leersum verschillende basisscholen. Aan de zuidrand van het dorp liggen uitgestrekte weilanden met heerlijke vergezichten, terwijl aan de noordrand bossen het dorp omarmen. Leersum ligt centraal in het land vlakbij uitvalswegen naar Utrecht en Arnhem. Daarnaast is er een goede openbaar vervoer verbinding voorhanden.

De Hofstede:
op een van de prominentste plekken in het mooie Leersum start Prosor Realisatie binnenkort met de bouw van het project "de Hofstede". Het project beslaat in totaal 24 appartementen verdeeld over 3 aparte gebouwen met ieder hun eigen signatuur. Zodoende is het aanzicht divers en kleinschalig. Achter de appartementen is er ruimte voor parkeren op eigen terrein.

De plek waar deze hoogwaardige appartementen verrijzen ligt midden in het dorp. U loopt via de tegenovergelegen Lomboklaan zo naar de bossen. Ook alle voorzieningen liggen op loop of fietsafstand.

Het gebouw (gebouw B) op de hoek van de Rijksstraatweg en de Hoflaan bestaat uit 9 ruime appartementen, waaronder een penthouse op de derde verdieping. Dit gebouw is voorzien van een lift naar de diverse verdiepingen.

Het gebouw (gebouw C) is aan de Hoflaan gelegen en bestaat eveneens uit 9 appartementen.

Alle koopappartementen hebben een parkeerplaats op het eigen terrein en naast een interne berging ook een berging op de begane grond.

De appartementen worden volgens de laatste eisen ten aanzien van energiezuinigheid gebouwd. Dit betekent dat de appartementen bijna energie neutraal zullen zijn en natuurlijk zonder gas aansluiting worden opgeleverd. Dit betekent voor de toekomstige bewoners een comfortabele en energiezuinige woning.
Residential property types
Of the 18 houses in this project 4 are available