Geertruiden NXT
7415 Deventer
From € 300,000 to € 582,075 v.o.n.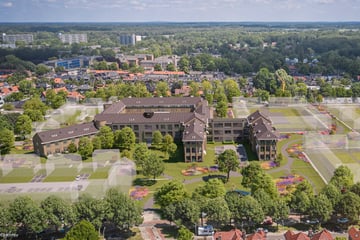 Project Geertruiden NXT
UNIEK WONEN IN HET MONUMENTALE DEVENTER ZIEKENHUIS!

Een unieke woning in een indrukwekkend gebouw op één van de mooiste plekken van Deventer. Binnenkort wordt dit werkelijkheid aan de Fesevurstraat in Deventer. In het voormalige Sint Geertruiden Ziekenhuis worden in totaal 82 grondgebonden woningen en appartementen gerealiseerd. Fase 1 is inmiddels in de verkoop. Dit betreffen 7 luxe stadsvilla's met 3 woonlagen en 7 royale stadsvilla's met 4 woonlagen. In fase 2 zijn dat 27 luxe appartementen. Het is een gebouw met een rijke historie en het betreft een gemeentelijk monument.
Bij de transformatie zorgen we ervoor dat de karakteristieke onderdelen van het monumentale pand intact blijven.

START BOUW GEERTRUIDEN NXT
In maart 2023 start Koopmans met de bouwwerkzaamheden van gebouwdeel A en in juni 2023 volgen de bouwwerkzaamheden aan de gebouwdelen B en C. Voor je het weet woon jij hier misschien ook wel!

Ben je geïnteresseerd in 1 van de stadsvilla's? Neem dan contact op met ons kantoor en vraag naar de mogelijkheden!
Kijk voor meer informatie over de appartementen op de website van Geertruiden-NXT.

Aan deze objectinformatie kunnen geen rechten worden ontleend en deze informatie kan niet als aanbieding of offerte worden beschouwd. Indien u een aanbieding wenst, kan de makelaar deze, na goedkeuring door de opdrachtgever, op basis van specifieke gegevens verzorgen.
Residential property types
Of the 41 houses in this project 12 are available